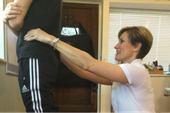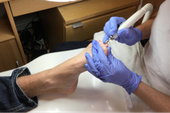 Treatment for a Mechanical Foot Disorder
If you are suffering from foot pain, it could be being caused by something as simple as walking or running in a particular way.
How you place your feet, the type of shoes you are wearing or an abnormality in your joints or muscles could also be responsible for problems higher up the body – in the knees, hips or back.
As you age, your body becomes less able to 'work around' problem areas and issues start to crop up, including discomfort or loss of balance. This pain can stop you from getting out and about, affect your mobility, or prevent you from continuing with sports that you've played all your life.
In young people, a postural or movement issue can lead to an injury while playing sports – or reduce an individual's ability to perform sports at his or her best.
We use cutting-edge technology to analyse and treat the reasons behind your pain.
Conditions treated by our Podiatry service:
Foot Pain:
Arthritis
Stress fractures
Heel Pain (plantar fascilitis)
Ball of the foot aching or burning (metatarsalgia)
Mortons neuroma
Painful toes or corns
Flat, aching feet
Bunions or Haglunds deformity
Higher Up:
Knee pain, hip pain, lower back pain
Leg-length difference
Postural or balance problems in elderly people
Rehabilitation from surgical procedures
Sports Injuries:
Shin splints, tendonitis, ankle discomfort or hypermobility
Children:
Growth and development screening
Treatment for injury or pain
Uncoordinated or awkward gait
Help to achieve the best possible results from sporting activities
Treatment will include one or more of the following:
Biomechanics Assessment
First we will assess the way your body functions. We'll examine your range of motion, and look for abnormalities in the joints and muscles to identify why you are experiencing pain. Conducting a thorough examination allows us to identify the best treatment options for realigning your body and reducing the pain in your feet and further up the body.
Gait Analysis
We examine the way you walk using a computerised pressure mat. This tells us what effect the ground has on your feet and the regions of the foot that are under the most pressure as you move. Using this technique, we can identify the areas that are most traumatised or at risk of future problems.
Orthotic Insoles
We often recommend the use of orthotic insoles to counteract the problems that we've identified in the foot. These insoles help to support and correct the alignment and function of the foot and to offload pressure.
There are many types of orthotic insoles. It is our job to design or find the best one to resolve your specific problem and suit your budget.Bespoke orthotics are the top of the range because they are made exactly to your prescription.
They are created using a brand new iPad 3D scan of the feet. This is then processed in a laboratory to create an insole just for you.If you already have insoles you may need them refurbished, adjusted or checked for fit. An insole that doesn't fit properly is worse than no insole at all.
For the best results, orthotic treatment should be used in conjunction with massage, stretching and strengthening exercises. If this treatment is needed, we can refer you to a physiotherapist, massage therapist or osteopath, so that you get a team approach to your problem. This kind of holistic approach is usually the most successful way to resolve an issue.
Initial Biomechanics Assessment - £65

Prices for Podiatry treatments vary according to the type of insoles and treatments needed for each individual. This will be discussed at the initial consultation when we know more about the treatments that will work best for you.